Enonic version: Enonic 6.6.0
OS: Windows 7 / Chrome Version 51.0.2704.103 m (64-bit)
I have a content type with an HtmlArea where I insert text and images. If I write two paragraphs of text in the HtmlArea and then insert an image using "insert/edit image" in between the two paragraphs, everything works fine. If I later change the position of the inserted image, by pressing "insert/edit image" and selecting left or right positioning, the second paragraph of text will disappear. The second paragraph is not hidden behind the image or anything, it's removed from the HtmlArea.
This behaviour is not consistent, but I'm able to reproduce it by switching between left-, right- and full width positioning.
Image with position left.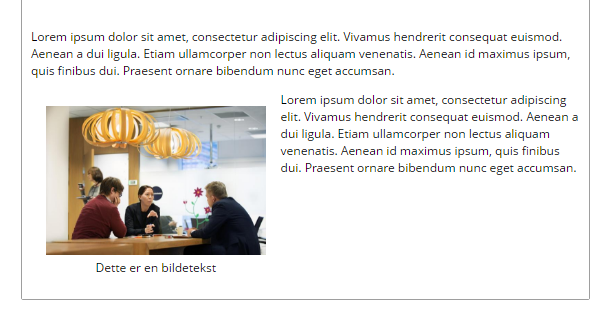 Change to position right and the second paragraph is gone.

On a side note: how can I insert svg-images in the HtmlArea?