Hi,
We are working on an application whose default language is Norwegian, and the second language is English so we have:
phrases.properties (no)
phrases_en.properties
We are using the latest version of Content Studio (4.2.4) and the content language is set to Norsk too.
We have many layouts and content types whose descriptors contain forms that use i18n.
Even setting the User Agent (Google Chrome 105.0.5195.127 64bits) primary language as Norwegian, the strings from the default phrases.properties strings are ignored and only the ones from the English sibling are shown in the example below: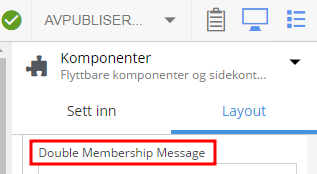 The only ways we found to make the default language work are:
Removing English from the browser's language list;
Creating a Norwegian-specific copy of phrases.properties (phrases_no.properties) and setting Norwegian as the browser's primary language.
If the secondary language (English) exists in any sequence of the browser's list, the translation in the default phrases.properties is ignored.
We tested many other apps and sites we have, and this is new behavior for us.
Thanks.
Enonic version: 7.9.2
OS: Ubuntu 20.04.4 LTS