Enonic version: 6.4.0
OS: Ubuntu 15.10
Hi.
I have a content selector which allows two different types, lets say A and B.
The issue is that there is a page of content type A named "Hest" and another page with same name of content type B.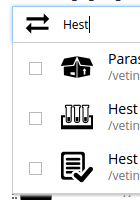 Any suggestion on how we can distinguish the names ?
We do not want to change the object name.