Last Week
Be sure to sign up for our September 14th's breakfast seminar for web editors and content marketers. RSVP and check the agenda. Kopinor and Bouvet will speak.
In London our PWA meetup will soon reach 100 atteendes, check it out.
Tine launched its XP website skolelyst.no (in Norwegian).
Next week we have some available spots for Developer 101 and 201 training. Be sure to sign up!
Further reading
Here's some interesting articles popping up last week, related to Web Development in general.
Firefox aims to go full frontal on Chrome, to take back the web.
Two years in the making, Bootstrap 4 is now in beta. Going from Less to Sass, dropping IE8 and IE9, introducing Cards, switching to Flexbox and Grid, and countless other improvements, this is most likely the biggest update yet.
Doing popups (overlay divs, hints and tooltips) on your website, the Popper.js lib will help you placing these overlays correctly, even as the user scrolls.
The widely discussed new license for React.js got a response from Facebook this weekend. They did the switch to stop meritless patent litigation for themselves and everyone using the same license.
Send me a private message if you happen to stumble over something interesting this week.
---
Enonic Releases
Enonic XP 6.11 is our latest release.
The plan for 6.12 is to improve existing features, expand upon new Issue feature, and more. We hope to launch it around mid-September. Attend our meetups for the latest details!
---
Enonic Market
Enonic Market serves these two apps, one fresh out of the oven.
GraphiQL is a browser and assistant tool for anyone diving into GraphQL. It lets you browse data, see data information, and more. Currently in Beta.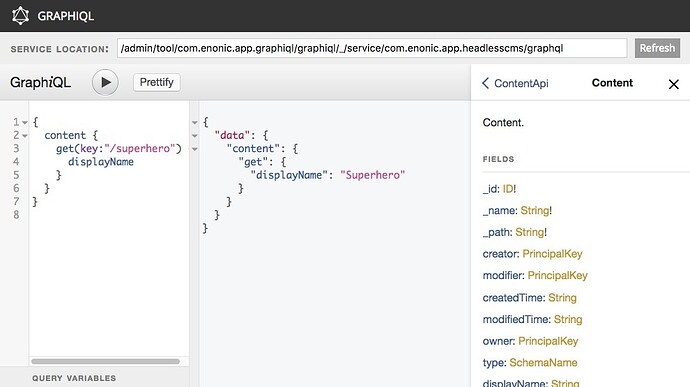 Data Toolbox also got an update, dropping version history from its exports. A handy update that will lessen the package size being downloaded.
---
Events
The following events are planned so far, and quickly approaching:
---
Training
We provide professional training for developers, editors, and marketers. These training events are planned so far, sign up!
Need custom training, or training on other dates, or other locations? Contact us!
Don't forget to certify yourself as an XP developer!
---
See you next week!