Last Week
This morning we celebrated reaching 400 concurrent servers running XP out in the wild. Champagne was waiting for us and this moment.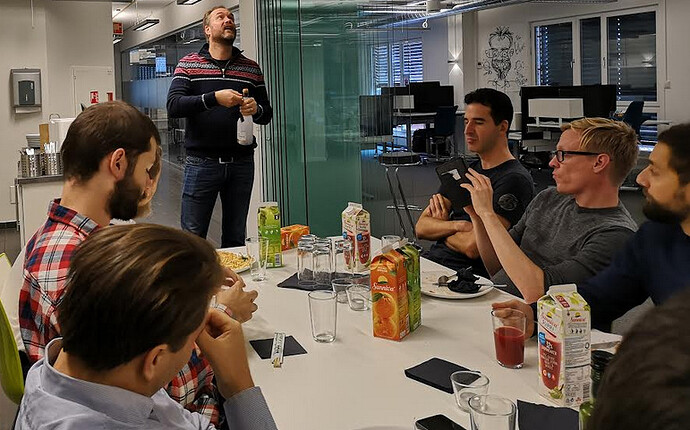 Last week we blogged about how we helped the Norwegian Postal service to improve their search functionality using Enonic XP. Highly recommended article, give it a read!
7.0 is being worked on full-time now. We've worked a lot the last few weeks on upgrading the Java-version and ElasticSearch-version we use. We're also working with bundling JDK with the product itself, to make developer on boarding faster and easier. Today we had a discussion around our XML syntax, with a mixture of "input containers" like <config>, <items>, <forms>, new developers easily mixed them up so we've decided to streamline them to just <form> in 7.0.
Another interesting new feature in 7.0 will be the inclusion of the highly requested image styles-feature, letting apps define custom styles for images that can be used on images in the Html-editor, as well as allowing for custom width. We'll also solve another highly requested feature with said feature - allowing apps to define fully custom styles for anything in the Html-editor using the new /site/styles.xml descriptor.
On the 10th of October we'll be attending the PWA autumn meeting at Capgemini, will you?
We're recruiting!
We are hunting for good Java-developers, two of them actually - one senior and one regular. Read more about the positions on our career-page.
---
Enonic Releases
Our latest release is Enonic XP 6.15.4!
As always, we appreciate feature requests and bug reports here in the forum and/or on our Github page for XP.
---
Enonic Market
Enonic Market had these updates last week:
Babel Starter 1.4.0 - solves build issues caused by deprecated version of NodeJs.
---
Further reading
Here's some interesting articles that surfaced last week, related to the web in general (not only development).
Send me a private message if you happen to stumble over something interesting this week.
---
Events
The following events are planned so far:
---
Training
We provide professional training for developers, editors, and marketers. These training events are coming up, but more are available! Need custom training, or training on other dates, or other locations? Contact us!
Don't forget to certify yourself as an XP developer!
---
That's it for now. Stay in touch with us here in our forums and on our open Slack channels.
See you next week!